"CatNet" series review
Overview
Title: CatNet series
Author: Naomi Kritzer
Subgenre: Science fiction
2021 Bingo squares:
Catfishing on CatNet: Found family (hm), First-person (hm), Book club, Backlist, Mystery, Genre mashup, Nonbinary character
Chaos on CatNet: Found family (hm), First-person (hm), Backlist, Mystery, Genre mashup, Nonbinary character
Recommend: Yes!
Stars: 4.5/5
Review
What would happen if, in the not-to-distant-future, a benevolent AI who likes cat pictures were unleashed upon the Internet? And what would happen if it became the administrator of an online chat forum with a bunch of high school students looking for a community? Catfishing on CatNet tells the story of Steph, a lonely teenager who lives with her mom, the two of them constantly on the run from her dad and always moving from small midwestern town to small midwestern town. Steph's one constant is her "Clowder," an online community administrated by CheshireCat - who happens to be a benevolent AI who likes cat pictures.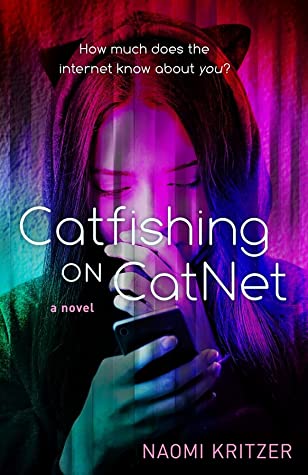 Delivery drones are very hackable….I picked out a book on Albuquerque for Ms. Campbell, along with three books on changing careers and a novel about a bad teacher, and I had a drone drop the package on the hood of her car just as she was coming out of her house with her work bag and her morning coffee.
CheshireCat (they/them) has the absolute best of intentions, but they maybe…don't know the exact best way of helping out, as evidenced when they try to get Steph's lousy (and sad, hates the cold, would be way happier living in Albuquerque) health teacher to switch careers. But they're doing their absolute best, and it's adorable. Other than CheshireCat, the rest of the Clowder consists of humans, and they make a wonderful support system for Steph (aka LittleBrownBat, or LBBBBBBBBB), as well as being a great representation of actual online chats - some of the chapters are straight transcriptions of chat logs in the Clowder.
This particular small midwestern town and school also have better friends for Steph than previous ones have had, specifically including Rachel, who might be…more than a friend? But when you also have a well-intentioned AI as a friend and are on the run from your dad, "what could possibly go wrong?" is, well, a lot.
Both Catfishing on CatNet and Chaos on CatNet range from adorable found family to thrilling AI drama, as the plot involving Steph's dad goes pretty wild places. They're also super inclusive, and have characters actively and openly exploring their own sexuality and gender identities, all in the supportive community of the Clowder.
The only reason for my not-5/5 rating is that the second book introduces a second POV character, and it took me about half of that novel before I was enjoying her POV. Other than that, these books are perfect in every way.